Medito Update - January 2021
Jan 29, 2021 — Romain Sourdiaux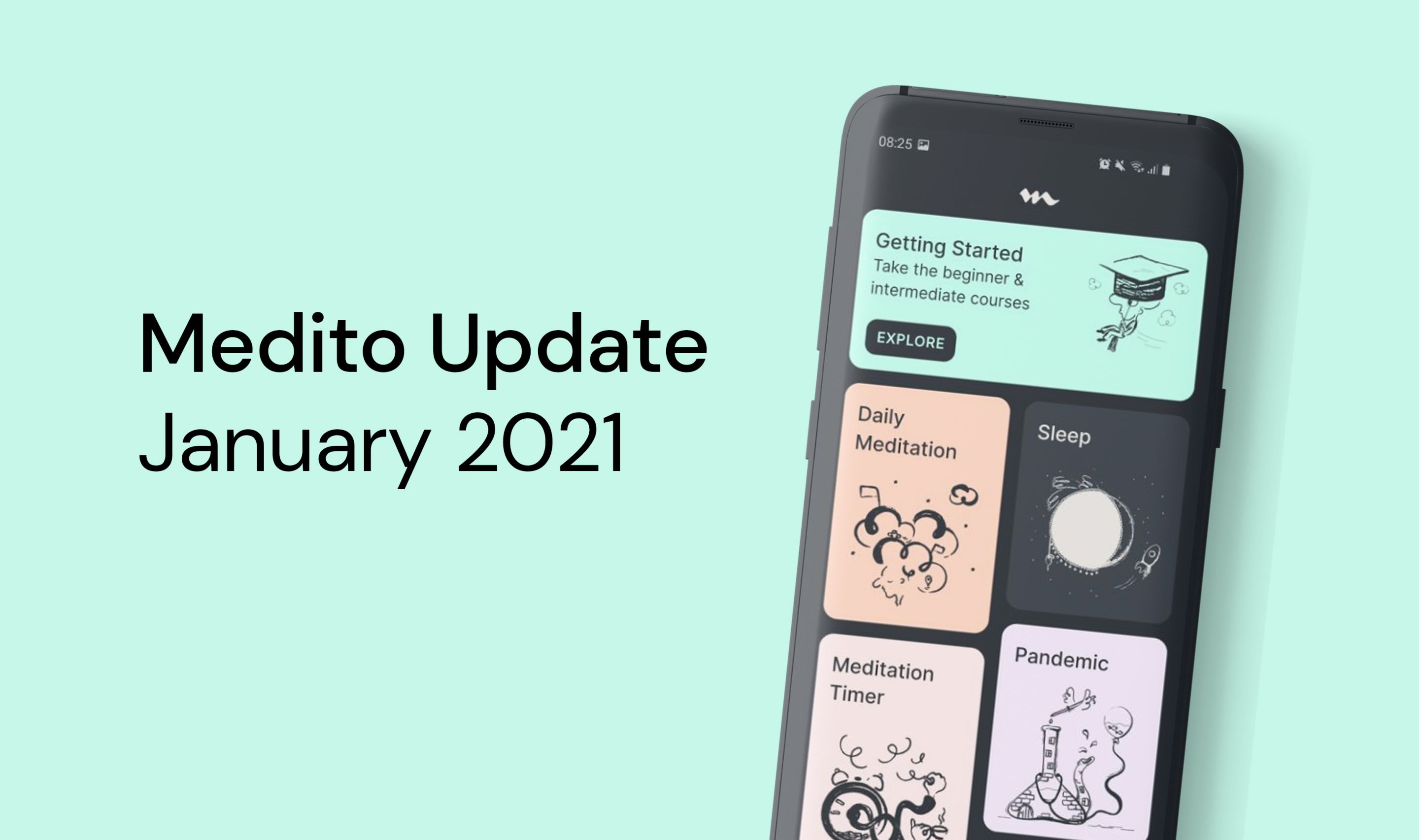 👋 Welcome to Medito's January 2021 Product Update!
🎧 Content
What we are currently finishing
What we're working on
Low mood pack
Chronic pain pack
Advanced pack
🇮🇹 Italian content
More voice options
🤓 Tech & Features
What we have been doing since December
We have worked on the server-side so that the app can be faster, more cost-effective, and gives us more flexibility in the long term.
What we're working
Following the server changes, we are rewriting the app to make it more stable and more efficient.
We are improving the announcement in the app so that it's nicer and more useful.
Implementing the new daily session system: we have changed how the daily session is picked up so that it's less buggy.
Each session has a proper ID now, so when you listen to something, it will never be lost.
What is coming next
A section to see your downloaded sessions
A search option
Deep linking! So that you can share a session with people and it will open in the app
A meditation reminder
Recommendations about what to listen next
---
Finances
We aren't breaking even yet. However, January is so far the best month for the foundation, with an increase of 34% of donation revenue compared to December.
Most of the donations received were single donations.
---
Cost improvements
We have reduced our monthly server costs by more than 50%.
We have reduced our service costs by more than 800 euros a year.
We should finally be good to move away from Google Play (for in-app donations), moving back to Stripe.
This change will allow the foundation to receive nearly 96% of your donation (instead of 70%).
---
App usage
The app is used on average by 12,000 people each day
2,000 new people install the app each day
Most people come from the 🇺🇸 USA, 🇮🇳 India, the 🇬🇧 UK, 🇨🇦 Canada & 🇩🇪 Germany
We served more than 8TB of data
The server received more than 16,000,000 requests 🤯
---
That's it for January!
We will be sharing an update like this one each month.
Stay tuned!
Thanks for supporting Medito ❤️
📧 Want to email us? [email protected]