Medito Update - March 2021
Mar 30, 2021 — Steven Yorke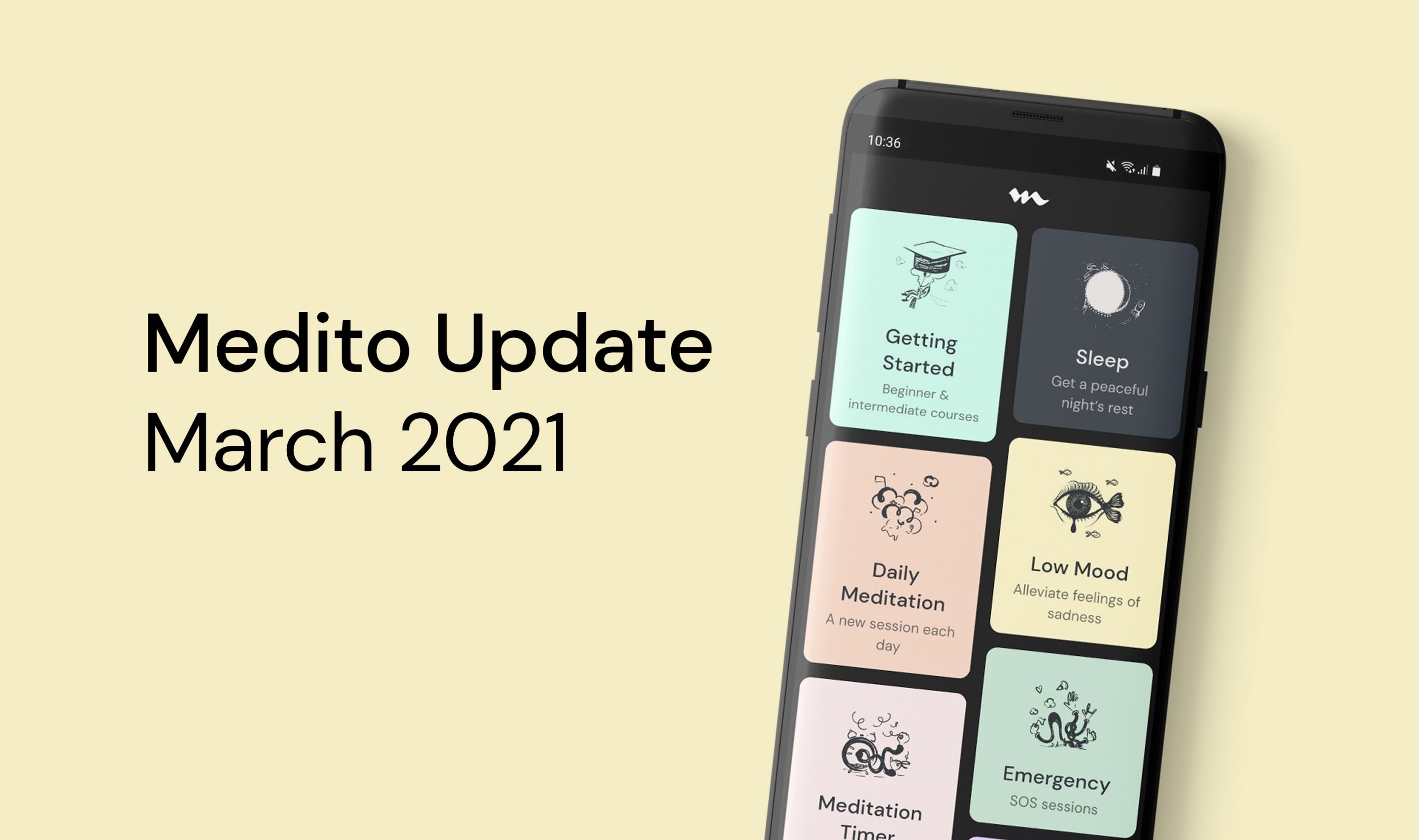 👋
Hello everyone!
We've had a busy March and there are lots of exciting things coming up 😃
🤓 Tech & Features
COMING SOON! We're getting ever closer to a big new app update! Keep an eye out out for it in April! This will include:
A shiny new interface
A packs section where you can browse all packs available on the app
A home screen where you will find quick links, courses and stats
A Library section, where you can easily find your downloads
Volunteers & donors will be invited to a video call with the Medito team soon to see a sneak preview of the new app design 👀
🎧 Content
In March, we released the Low Mood pack, which we've had lots of great feedback on. We're really glad to hear that it's helping people to feel better.
Next to be released will be:
Chronic pain pack
A pack for students and graduates
And then a little bit later there will be:
An advanced course, to help you deepen your practice with meditative insights
Sessions in Italian
Don't forget, you can suggest your ideas and vote on other people's ideas via GitHub:
You can now also donate via GitHub:
Sponsor @meditohq on GitHub Sponsors
📖 New blog posts
In case you missed them, here are the blog posts that we released in March:
🎂 April 30th is Medito's 1st birthday!
We can't believe that it's been almost one year since we released the Medito app!
Medito Foundation is a nonprofit made up completely of volunteers. We couldn't have got to the the stage we are at now without all of your support, so thank you!
To help celebrate Medito's 1st birthday, it would be amazing if you can all help us spread the word even more! Whether it's sharing on social media, posting on your company's intranet, getting a mention on your local radio station, writing in to your local newspaper - anything to help us reach more people with free mental health resources.
Take a photo or a screenshot and share it with us on social media, or on Slack and we'll pick one winner to receive a little prize 🎁
That's it for this update!
Thanks for supporting Medito ❤️
📧 Want to email us? [email protected]