Medito Foundation partners with the Mindfulness Association to deliver even more free mindfulness content
Feb 24, 2022 — Steven Yorke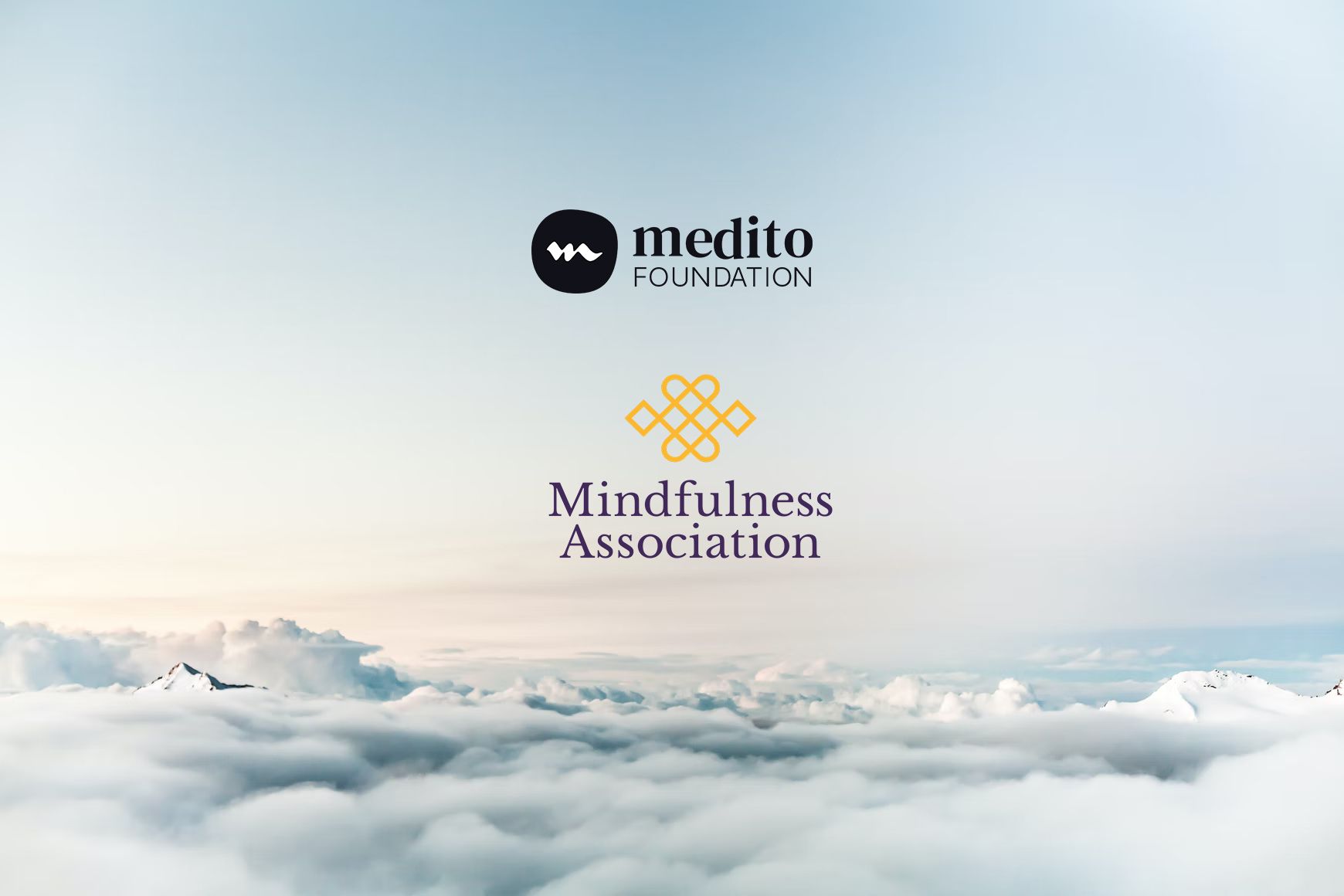 Medito Foundation and the Mindfulness Association are both nonprofit organizations dedicated to building a more mindful and compassionate world. We've recognized our shared values and we've joined forces to help each other bring free guided meditation sessions to the masses.
The Mindfulness Association has been providing compassion-based mindfulness training for more than a decade and their courses draw from a broad range of disciplines, including neuroscience, evolutionary psychology and Buddhism. Their teachings are based on the work of Rob Nairn, one of the world's leading pioneers in teaching meditation to a western audience.
Medito, the 100% free meditation app, now contains dozens of sessions guided by the expert mindfulness tutors from the Mindfulness Association. This adds to the hundreds of existing meditation, mindfulness and sleep sessions that are freely available on the app.
We will also be delivering some live talks together soon, where we will delve into mindfulness and compassion-related topics, and answer some of your questions.
How did this partnership come about?
Two of Medito Foundation's co-founders (myself and my brother, Gareth) are studying for a master's degree in Mindfulness Studies with the University of Aberdeen. The MSc is run as a partnership between the University of Aberdeen and the Mindfulness Association, so we have had the chance to work directly with the Mindfulness Association tutors.
We came to realize just how valuable and insightful their teachings are, so we approached them about the possibility of sharing their content with Medito meditators. They loved the idea of a completely free and nonprofit meditation app, and were more than happy to contribute guided sessions.
What do the Mindfulness Association sessions on Medito cover?
Recognizing the Unsettled Mind
This session explores how our minds work. What do you learn if you observe what your mind gets up to? Often we find that when people first begin to practice, their minds are rather flighty and Unsettled.
Settling the Mind
As we learn to leave our thoughts be - not grasping at them and not pushing them away - the mind begins to settle and we may begin to feel a sense of space opening up between us and our thoughts.
Body Scan
The body scan is a foundational practice to grow body awareness. There's a whole universe of sensation to be felt in the body and we can learn a lot about ourselves by moving our
attention through the body with an allowing attitude.
3 Minute Breathing Space
This gives an opportunity to pause, notice what's going on within you, breathe and come back to the present, so you can resume your day with renewed focus.
Memories of Kindness
By bringing to mind memories of kindness, we begin to get in touch with the felt sense of kindness. Sometimes in this practice we begin to see what habitual perceptions and thoughts stand between us and feeling kindness too. Either way, we are on the road to understanding where kindness can be found within us.
Settling, Grounding, Resting, Support – using sound or breath as a support
These practices comprise of the four main stages of mindfulness practice as taught by the Mindfulness Association: Settling, Grounding, Resting and Support. There is one session that uses the experience of the soundscape around us to stay more present, and another that uses the breath as an anchor to the present moment.
Kindness for Other
This practice teaches us how to grow our capacity for kindness by getting in touch with what it feels like to send kind and loving wishes to a dear friend, a loved one or pet.
Kindness for Other and Self
Here we open to connect with a feeling of kindness towards a dear friend, loved one or pet, to begin with. Then with this feeling in our awareness, we turn our attention to kindness for ourselves, and notice what arises in response.
R.A.I.N Practice
This practice comprises four steps towards experiential acceptance: Recognize, Allow, Intimate Attention, and Non-identification. Working with something that is troubling or difficult, we move through the steps and gradually find that different perspectives are possible when we recognize what is going on and allow it to be as it is, with awareness and understanding.
Mindful Movement
Here we let our attention be carried by the unfolding sensations of our body in movement, giving up any attempt to achieve or push ourselves, we move only for the sake of moving.
Noticing the Undercurrent
In this practice, we begin to notice the content of our experience – the thoughts, feelings and sensations that are constantly arising and passing in the mind. We call this the 'Undercurrent' and we can learn to sit and watch it.
Noticing Attitude
Now we turn 180 degrees and focus our attention on the attitude we are observing our experience with. As we become more self-aware, we will notice more of what goes on within us. Rather than judging this, it's very important that we cultivate a kind attitude to what we discover.
Sessions for Teens & Young Adults
These sessions cover many of the topics listed above, but are designed to appeal to a younger audience.
You can access all of these sessions for free on Medito, the only 100% free, nonprofit and open source meditation app in the world.